Another one for my submission to the Commission on Tax and Social Welfare.
Why do we have annual allowances. Let's use pensions as an example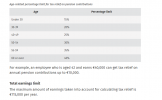 Why do you have to use it or lose it?
Why not carry forward any unused allowance?
In my 20s and 30s I should be saving the deposit and clearing down my mortgage. But I am forced by the system to divert money into a pension scheme or else I won't be able to maximise my contributions.
Why not just make it €10,000 a year cumulative - irrespective of income.
If I reach the age of 30 without having contributed, then I can get tax relief on €100,000 contributions that year.
Brendan